RECTOR'S WORD
Dear colleagues,
Dear students,
Education is a key that opens the door to opportunities. Our academic family consists of 12 accredited faculties with contemporary study programs from various scientific fields, functioning harmoniously and proving that science is unique and indivisible. True intellectuals with their knowledge manage complexities of modern life, being marked by the dynamic and rapid development of science and technology.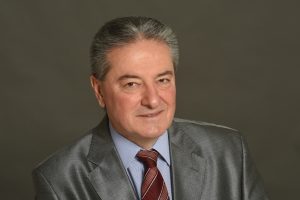 Selected teaching staff with considerable knowledge and experience, widely accepted and recognized internationally; technologically most advanced forms of learning and knowledge transfer in the most luxurious environment provided in our building, an architectural symbol of New Belgrade are just one of the reasons why you will you definitely decide to gain your academic knowledge and your first practical experience in the secure environment of Megatrend University.
The bridges of cooperation and friendship, which we have built on the firm and sincere foundations of knowledge, experience and trust, with the most prestigious academic and scientific institutions in the world, in the East and the West, the North and the South, give you the guarantee that as students you will be involved in academic exchanges and thus, expand the intellectual, spiritual and cultural aspects.
We take care of your knowledge and education, combining the knowledge and experience with the demands of the young, recognizing your needs and offering numerous and attractive social events, the opportunity to talk to the best creators in our country, politicians, scientists, artists, sportspeople, journalists who will share their experience.
We also open the door to various state and private institutions, companies; institutions that trust us and which enable you, as our students and members of our large family, to acquire practical knowledge, and provide employment opportunities to the best ones. This guarantees staying in our Serbia, whose safe and prosperous future we can build with our knowledge, education, work, and love.
Res, non verba – as wise Latins used to say. Our work and true pride are our former students, nowadays successful ministers, directors, managers, entrepreneurs, top sportspersons, journalists, artists, who show that the best ones win and do not forget the knowledge and experience, the academic life and the school of life experienced at Megatrend University.
So, join us! We warmly welcome you to the Megatrend family! Those who know where they are heading, they can reach the highest aims, and Megatrend University paves the safest way to the future!
Your Rector,
Prof. Miodrag Jevtić, PhD