John Naisbitt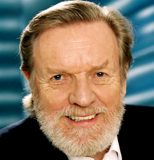 After serving in the U.S. Marine Corps and after graduating from Utah, Cornell and Harvard, Mr Naisbitt worked as an executive in the coporate world. When he was 34, he was invited to be a deputy education minister in the government under the US President Kennedy and worked as a Special Assistant for President Johnson. He witnessed the troubled and good times through which America was going through.
Since the late 1960s, John Naisbitt has travelled the world, keeping in close touch with corporations and people in many fields of endeavour. He spoke to virtually every major corporation, to many several times. His cultural life and residence in the United States, Europe and now China keeps him in direct in touch with a changing economic environment – experience that is reflected in the books he has written.
His international bestseller Megatrends sold more than 9 million copies and it was on the New York Times bestsellerlist for more than two years, mostly as number one. John Naisbitt published the international bestsellers Re-inventing the Corporation in 1985, Megatrends 2000 in 1990, which was published in 32 countries and which became the Number One bestseller in the U.S., Japan, and Germany, and Megatrends for Women in 1992 (co-authored with Patricia Aburdene). His Japanese language book, Japan's Identity Crisis, was released in 1992 and was a bestseller in Japan.
His 1994 book, Global Paradox, received England's World Review Award for The Best Book of The Year. Megatrends Asia in 1995, was a bestseller in the German language and in Asia. High Tech High Touch was published in the fall of 1999 and since then it has been published in 17 countries. His last book Mind Set was published in 42 countries. The Wall Street Journal called his work "triumphantly useful…taking bearings in all directions and giving us the courage to do the same."
Studied at Harvard, Cornell and Utah Universities
Former executive with IBM and Eastman Kodak
A deputy education minister of Education to President Kennedy
Special Assistant to President Johnson
Former visiting fellow at Harvard University,visiting professor at Moscow State University, and current faculty member at the Nanjing University in China
Distinguished International Fellow, Institute of Strategic and International Studies (ISIS), Malaysia – the first non-Asian to hold this appointment
Recipient of 15honorary doctorates in the humanities, technology and science