Kiichiro Hasegawa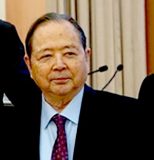 Mr Kiichiro Hasegawa gained his very rich professional experience in successful companies, 'Proudfoot Japan', 'Mitsubishi' and IBM. He is the creator of the application of Teogaku business concept, which focuses on modern training programmes for managers, adapting to the world economic trends and solving concrete companies' problems.
Efforts and actions of Mr. Hasegawa contributed to the successful creation and development of Megatrend University Teogaku Business School in Japan while his best qualities – as a man, expert  and analyst  helped a lot University's process of worldwide recognition and internationalization.
Keeping in mind Mr Hasegawa professionalism aligned with his  managerial skills, then open vision and dedication to the promotion of educational philosophy of Megatrend University,  with special emphasis on his focuses on transferring technologies between different cultures, University Senate awarded honorary doctorate to Mr. Hasegawa in 2011, wanted to gratefully celebrate all of his achievements.